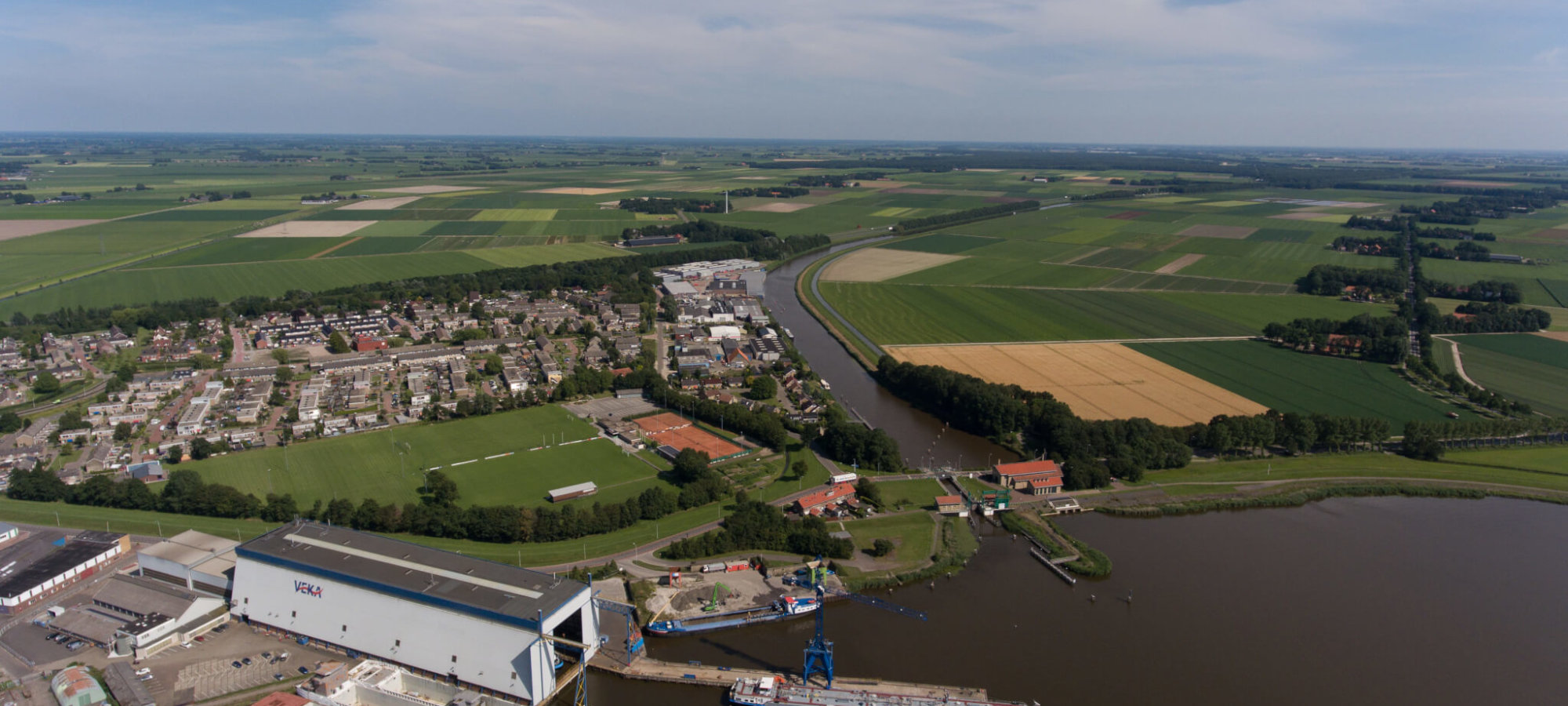 Lemmer facilities:
Hall: length 144 meter, breadth 43 meter, height 30 meter
Building dock: length 138 meter, breadth 20 meter and depth 5 meter
Crane capacity: 2 x 100 tonnes and additional; lighter cranes
3 halls suited for manufacture of outfitting parts and building block sections
Outfitting jetty: 126 meters, accessible from both sides
Peninsula with space for 6 vessels
Tower cranes on outfitting jetty and peninsula.
Workshops, offices, sanitary facilities for subcontractors
In March 2004, VEKA took over the large shipyard from the Bijlsma Group in Lemmer. This brought an end to the Frisian family company, but preserved the shipyard for the future.
The take-over secured a healthy future for the shipyard. Since 1994, one of the most up-to-date yards in the Netherlands has been established here – a fact we are very proud of. With its favourable location, large shed and extensive facilities, the yard is ready for the future.
The Yard
The shipyard in Lemmer has always built new seagoing ships from the keel up. Now VEKA also builds inland navigation vessels, for which the hulls predominantly come from Romania, Poland and the Ukraine. These are usually ships up to six thousand tonnes. The available shed space in Lemmer is enormous. The dock hall is 138 metres long, 20 metres wide and 5 metres deep.
The maximum length of an inland navigation vessel is 135 metres, so all types and dimensions can be built here. The great advantage of the 30-metre-high roof is that it is always possible to continue working, regardless of weather conditions. Furthermore, all activities on the underwater hull can also be performed here.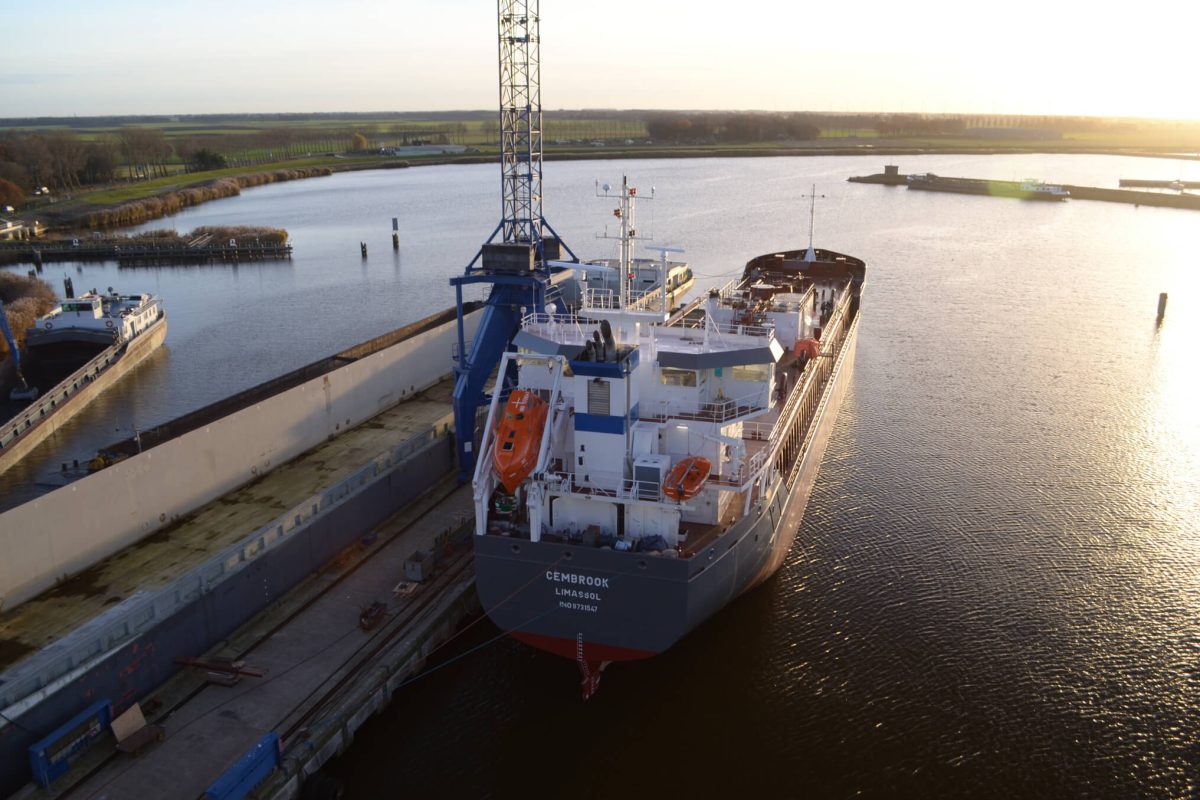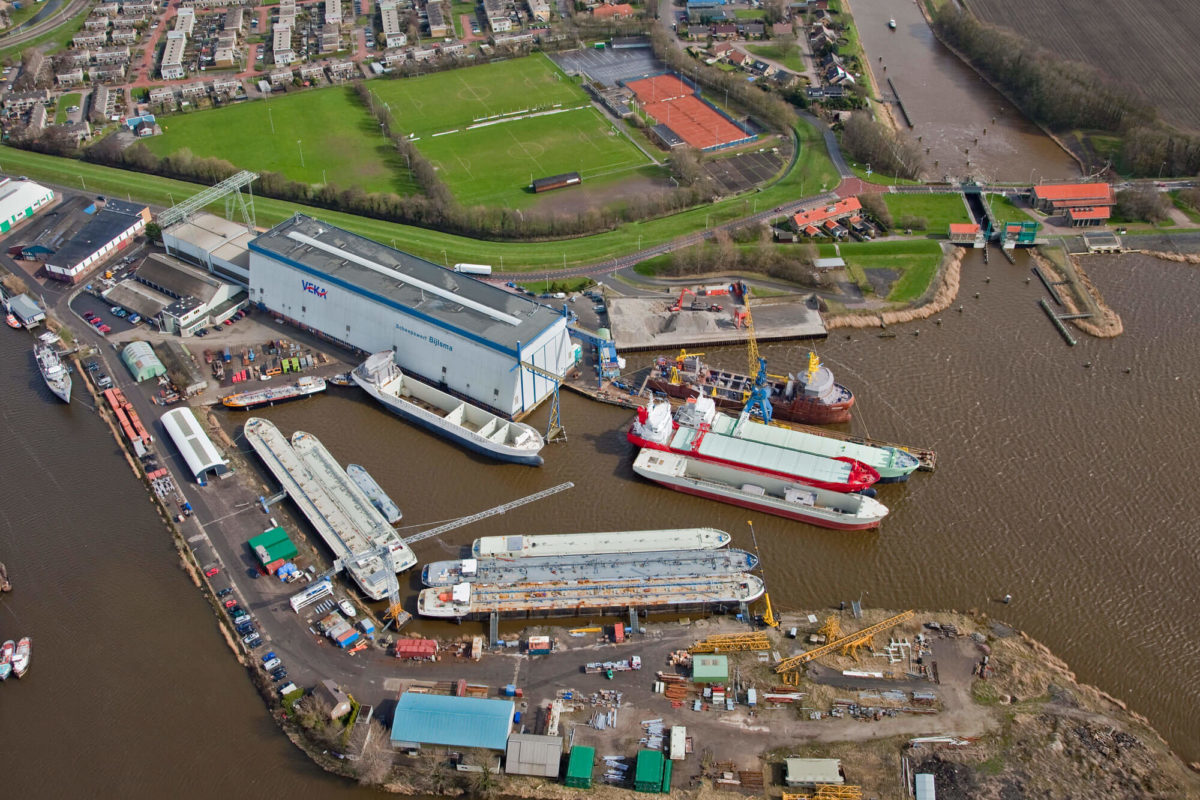 The Pier
The finishing pier is also generously proportioned; two ships can lie side by side. Due to the growth of the company, a strip of land adjoining the shipyard was purchased in 2008, meaning that there is now space for another 6 inland navigation vessels in the finishing phase. Account has also been taken of the many subcontractors working on the shipyard, and there are a good many because almost all individual disciplines are contracted out, such as carpentry, insulation, electrical installation, plumbing, sanitary work and of course the main engine, the propulsion installation and generators. All subcontractors at the shipyard have their own space for their equipment and the necessary support.
The finishing of an inland navigation vessel takes on average four months. In this period, the Bijlsma organisation manages all subcontractors on behalf of VeKa. Craftsmanship takes centre stage here. The aim has always been to offer the highest possible quality level. Fortunately, this has remained unchanged since the arrival of VeKa.