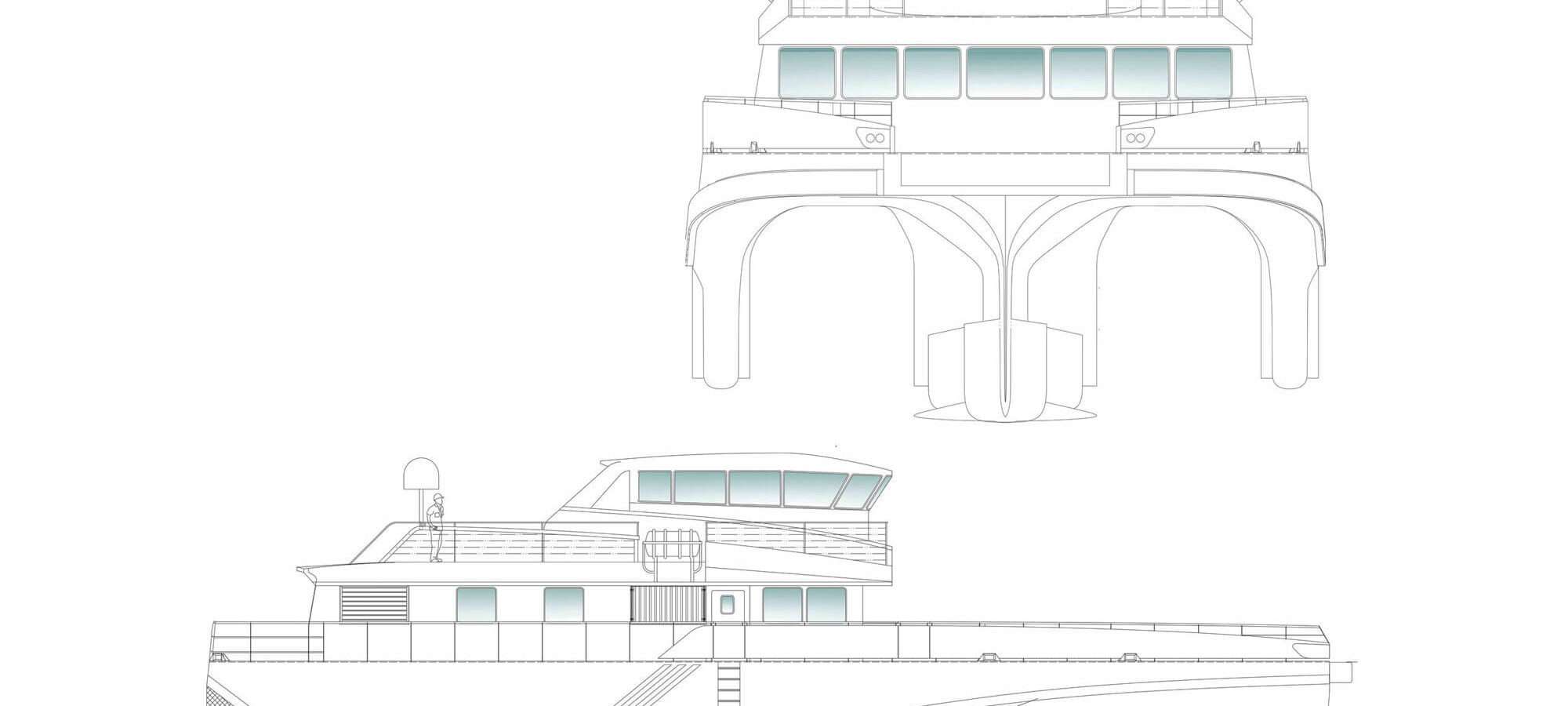 Workers on drilling rigs and offshore wind farms can look forward to a more pleasant commute with considerably lower risk of seasickness thanks to a special, innovative ship built by VEKA Group. VEKA will be building two trimarans intended specifically for transporting personnel and freight to offshore wind farms. These are the first hybrid trimarans in the world. Transporting offshore personnel takes place mainly by catamaran. These will be VEKA's first trimarans.
Most of the innovations are intended to make the so-called workboat more stable and more comfortable, thereby reducing the risk of seasickness. For example, the ships have lower windows than is customary, so that the passengers have a better view. The third bow is designed to ensure additional stability and comfort. There are also innovative stabilisers built into the hull.
"You do see these on those enormous passenger ships like the ones that go to England, but they're not customary on catamarans. That's what makes it special", says project manager Robin Sijbrands. "These stabilisers allow the passengers to arrive at the offshore windfarm as comfortably as possible."
Hybrid
In addition, the 33m-long trimaran has an innovative driveline. The ships will have five water jets installed . Furthermore, according to Sijbrands, considerable extra attention was paid to safety. "Three of these jets are run directly by diesels engines. However, the outer two water jets are driven by permanent magnetic generators. So if one system fails, the ship can just continue to sail."
There are also batteries on board as an extra backup; these are charged by the generator. These batteries can run the outer jets. This combination of diesel and electricity makes it the first hybrid trimaran in the world. Sijbrands: "The ship can sail for approximately an hour on the batteries. So in the very rare case that everything fails, it can always get away from offshore windfarm safely or sail into harbour. This is for even more safety."
24 hours per day
The two vessels will be capable of transporting 20 tons of freight on the foredeck. Inside, there is space for 24 passengers in comfortable business class seats. There are six cabins on board for the ship's crew, along with a mess room, changing locker and space for the crew. This allows the ships to be deployed 24 hours per day.
The trimarans are being built for the Danish shipping company World Marine Offshore. The vessels will be used for work at offshore windfarm in Europe. Delivery is scheduled for the third quarter of 2017.